Welcome, Eco-Enthusiasts!
Ever stopped to think about what happens to all the leftover fabric after your favorite fashion pieces are created? From end-of-rolls to misprints, fabric hangers, and sample designs, these fabric remnants, known as offcuts, often end up in landfills, contributing to an enormous ecological toll. At Bunko Junko, we believe in transforming this wastefulness into opportunity. We're thrilled to introduce our offcut products through our e-commerce platform. Each item is meticulously crafted using these fabric offcuts, ensuring that no material goes to waste.
By purchasing our limited edition, ethically manufactured products, you become a part of the zero-waste movement and help spread the sustainable message. Join us on this exciting journey towards building a greener future. Together, we can make a positive impact and create a fashion industry that values sustainability, innovation, and style.

Let's embrace the beauty of conscious consumerism with Bunko Junko!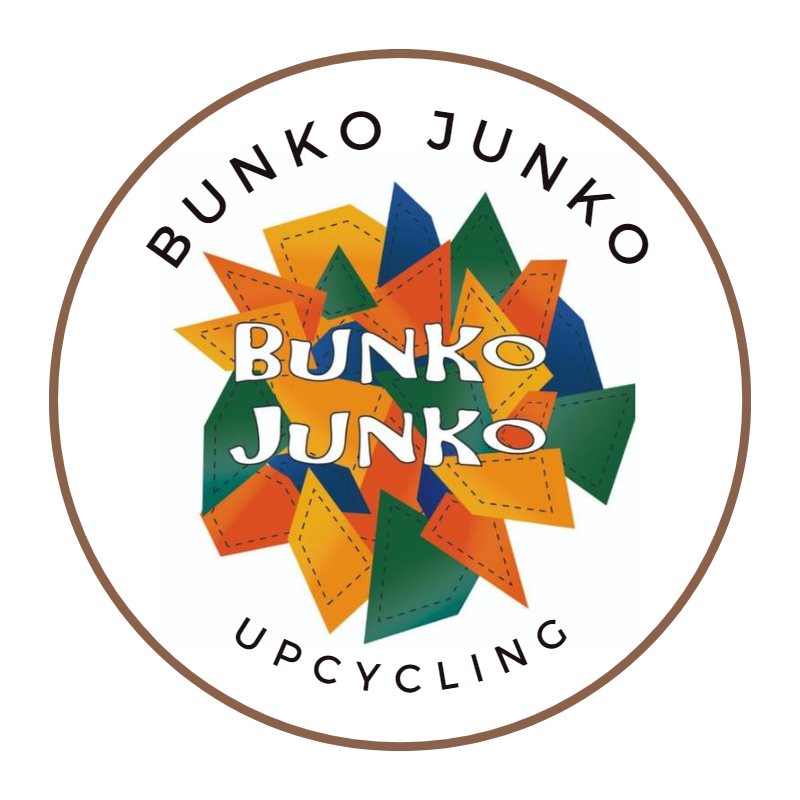 Story Behind Name Bunko Junko
Bunko Junko embodies the Japanese meaning of 'art decoration creation' by creating beautiful wearable art from discarded materials. Transforming this wastefulness into Green Resources.
The name "Bunko Junko" was derived from the initials of the brand's founder, Bhavini Parikh(B), and her name(J). They combined the two initials to create "Bunko Junko." Bunko Junko is a brand that was born from a simple evening walk with a daughter. When the founder Bhavini was looking for a name for her brand, she didn't find anything that clicked with her. That's when her daughter suggested a name that was inspired by her own name, Capt. Jill. She suggested the name "Junko" from the initial "J," At first, Bhavini was hesitant about using the name because she thought that no one would love to buy from a brand called "Junko".
Bhavini added her own initial "B" to create "Bunko Junko".
However, as she and her daughter looked into the meaning of "Bunko," they discovered that it means "art decoration creation" in Japanese & Junko From Junk . This perfectly embodied what the brand was all about, which is taking discarded materials and turning them into something beautiful and functional.
The name Bunko Junko is not only rhythmic and energetic but also unique, just like the brand itself. It represents the brand's mission of creating beautiful Wearable art out of discarded materials. The brand's name tells a story of how a simple evening walk led to the creation of something beautiful and unique.
Overall, the name Bunko Junko perfectly captures the essence of the brand and its mission. It is a testament to the creativity and resourcefulness of the brand's founder and her daughter, who were able to turn a simple idea into a beautiful reality.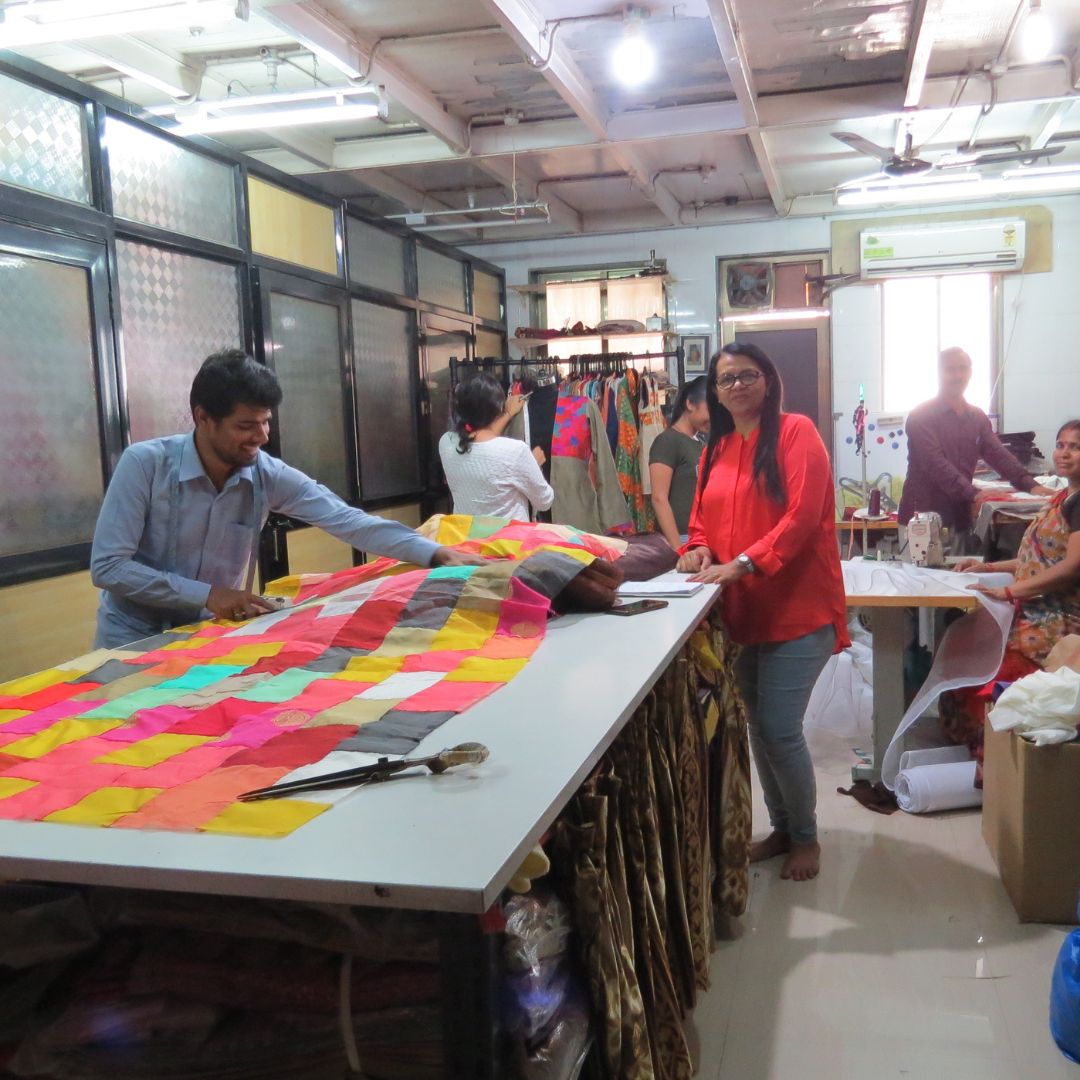 Founder -Bhavini Parikh
"Bhavini Parikh: Pioneering Sustainable Fashion with Artistic Ingenuity"
Bhavini Parikh is a visionary social entrepreneur and the founder of Bunko Junko. With a rich background in textile art and fashion design, Bhavini has used her expertise to uplift over 5000 women by providing employment opportunities through garment ornamentation and embroidery work.

Driven by her passion for sustainability, Bhavini took a bold step and established Bunko Junko, an upcycle fashion brand with a mission to combat fabric waste and reduce carbon emissions. Her innovative approach has garnered recognition, earning her numerous awards and accolades, as well as showcasing her clothing line at prestigious fashion shows.

Beyond her entrepreneurial pursuits, Bhavini serves as a mentor to aspiring women entrepreneurs and holds board positions in various organizations. Her remarkable achievements have been recognized on a national and international level, earning her grants and esteemed awards. As a TEDx speaker, Bhavini shares her insights on sustainable fashion, inspiring audiences around the world.

Bhavini Parikh's story is a testament to the transformative power of passion and determination. Through Bunko Junko, she continues to drive positive change and create a more sustainable future for the fashion industry.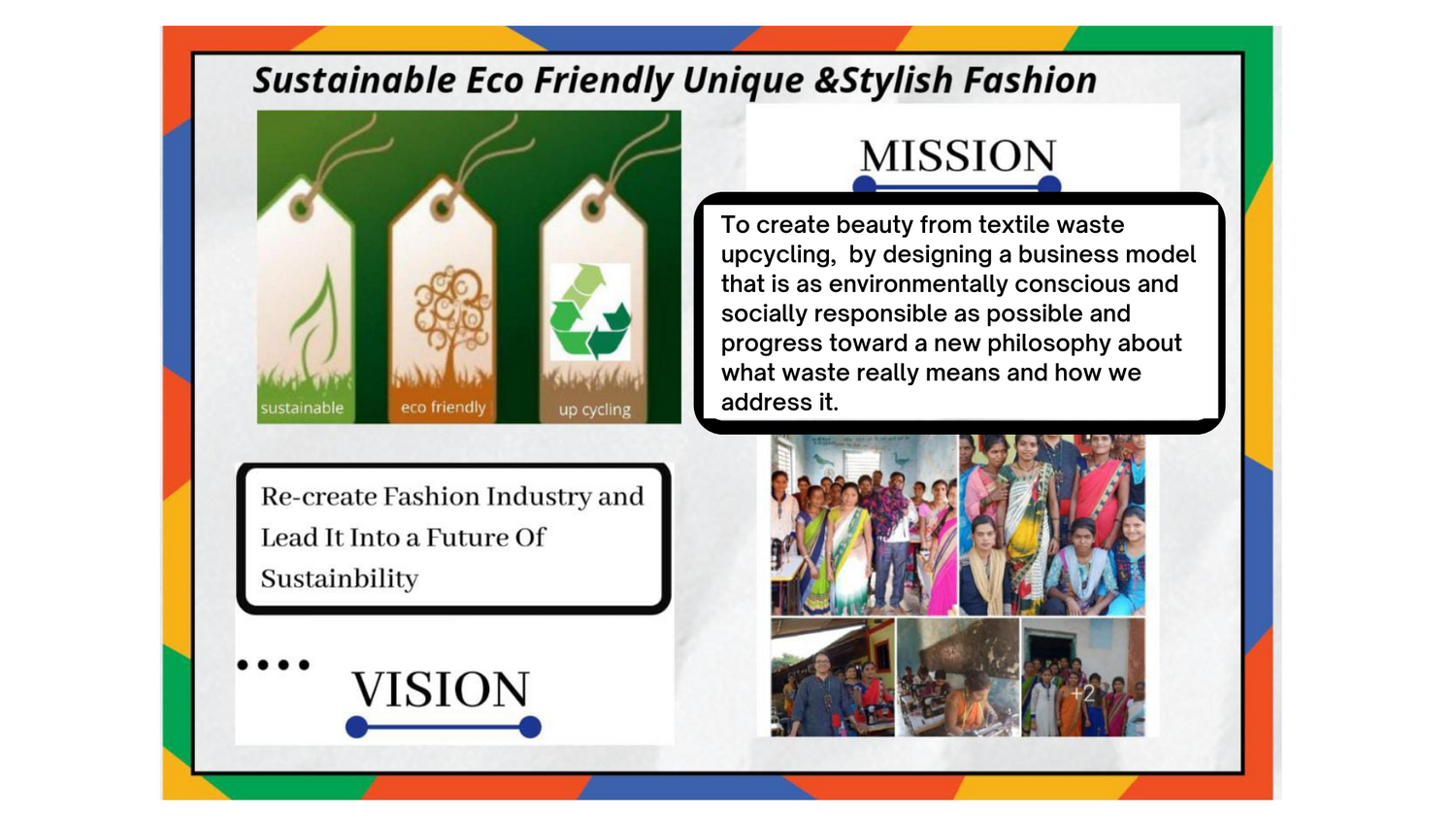 BUNKO JUNKO
Bunko Junko Beyond Sustainability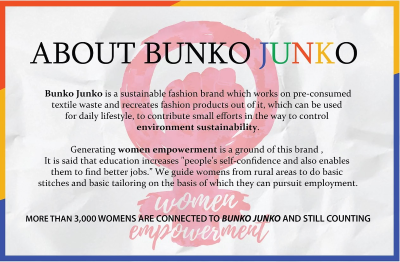 Redefining Fashion with Sustainability
Bunko Junko is your go-to brand for design aesthetics, functionality, and sustainability
Bunko Junko is an eco-friendly initiative empowering women in fashion while focus on reducing the carbon footprint by upcycling pre consumer textile waste, minimizing wastage, and landfill impact making a positive impact on the planet.
Fashion's dark side reveals it as the second most polluting industry globally, generating massive textile waste. At Bunko Junko, we're here to change that narrative.
We collect and repurpose textile offcuts /scraps, creating stunning fabrics, garments, and accessories. Through our zero-waste policy, we craft thank you cards, story pages, and visiting cards from the remaining scraps.
Our core values are centered around serving a need by uplifting others. This venture is built on the dual causes of using textile wastes to make beautiful clothing and other articles, and it is done by empowering women coming from  village, shelter homes, juvenile centers and other. We are focused on furthering our initiatives of upskilling women, which will directly translate into increased production capacity for us, and, at the same time, also be used for promoting our products along with our cause of upcycling and reusing textiles.
All in all, Bunko Junko creates a multifold impact: reduced wastage, increased empowerment, and creative clothing!
We are changing the face of the fashion industry - one scrap piece at a time.
We beautify clothing, and the environment.
We empower women and give them a new lease of life - along with giving a new lease of life to waste materials.
We create livelihoods from junk.
Join us in redefining fashion. Together, we'll make a difference—one stylish step at a time.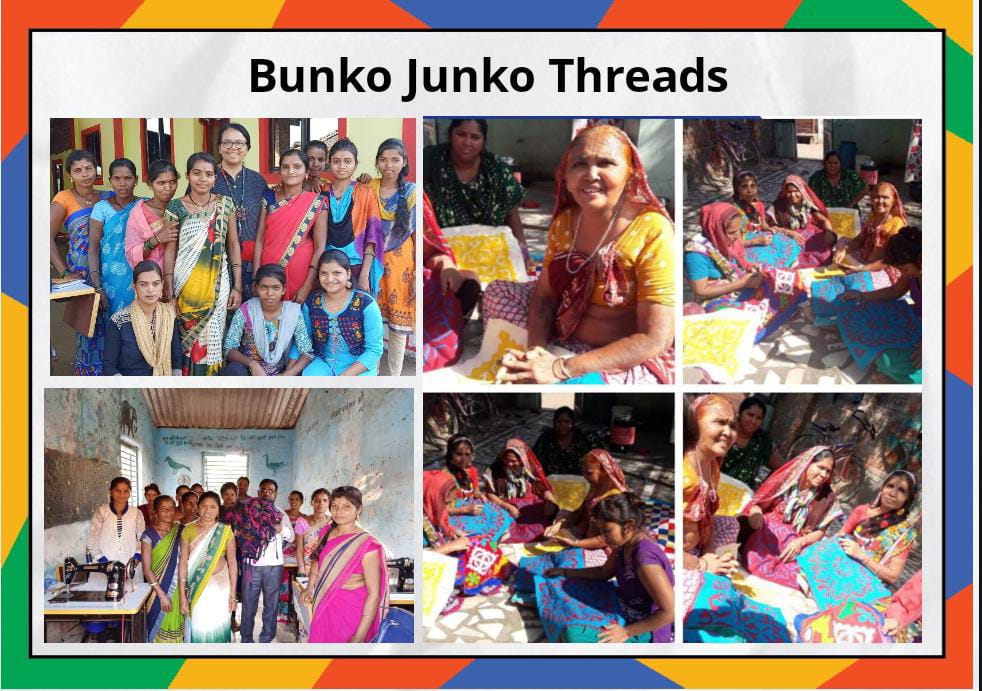 BUNKO JUNKO
Bunko Junko Beyond Sustainability
Salma

Dr.Shikha Gandhi -Marketing Head
"Discover the inspiring moments that fuel our eco-stylish vision."